Joan B. Fiscella (2009)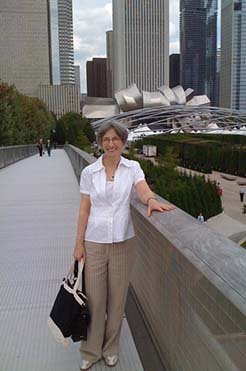 Joan B. Fiscella, Principal Bibliographer and Associate Professor for the University of Illinois at Chicago Library (PhD, University of Notre Dame), has been a member of the Association for Interdisciplinary Studies since 1987 and served actively as a member on its Board of Directors from 1991 to 2010, making her the longest serving board member other than its founder, Bill Newell. She was the AIS Board President from 1999 to 2001, Co-chair of the AIS Task Force that prepared "Interdisciplinary Studies in General Education Guidelines," and Co-editor of Issues in IntegrativeStudies from 2004-2007.
During her presidency, AIS changed from a venue for discussion of intellectual issues into an organization as concerned with providing services to the profession as with exploring ideas. She oversaw a major expansion of the range of AIS leadership activities: from sponsoring original scholarship, to evaluating and developing methods of assessment, to making new scholarship on interdisciplinarity Web-accessible, to preparing for a directory of interdisciplinary doctoral programs, to collaborating with national organizations such as The College Board and the Society for Values in Higher Education, to professionalizing interdisciplinary consulting.
Her work with AIS-sponsored publications included serving as a guest co-editor of a special edition of Issues in Integrative Studies (1992) on Interdisciplinarity and Information: Issues of Access; compiling and editing with Stacey Kimmel, Interdisciplinary Education: A Guide to Resources (New York: The College Board, 1999), and writing a series of articles encouraging scholarship for the AIS Newsletter (2001-2002). Along with Issues in Integrative Studies co-editor Fran Navakas, she held mentoring sessions on interdisciplinary scholarship at AIS conferences, created a series of templates for communicating with authors, set up a Web-based electronic system for sharing manuscripts between editors, and researched copyright laws.
She spearheaded the first AIS workshop to introduce instructional and professional technology to conference attendees and followed that with a number of conference workshops and presentations on the role of technology in interdisciplinary teaching. She was a tireless advocate for the importance of AIS establishing a strong presence on the Internet, and she selected and hired a firm to design the first AIS Website, overseeing its development in early 1999. She is almost single-handedly responsible for the emergence of AIS into the electronic age, serving for many years as a consistent and reliable resource to keep the Board of Directors apprised of developments in information technology and what has became the World Wide Web.
In recognition of her contributions to AIS, she was named the first recipient of the William H. Newell Award for Exemplary Service in 2009.